Front Title
Celebrating Leonard Bernstein
Music of the Night:
The Miraculous & The Macabre
Love in Music: Schumann,Chopin & Liszt
Virtuoso Variations
Back Title
Gershwin and Friends
A Chopin Showcase
The Power and Passion of Beethoven:
Appassionata and Moonlight Sonatas
The Miracle of Mozart
Front Title
The Romanticism of the Russian Soul:
Tchaikowsky and Rachmaninoff
Franz Liszt: The Devil Made Me Do It!
Romantic Fantasies
Spellbinding Bach
Back Title
Mistresses and Masterpieces
Listen to the Dance: Waltzes,
Marches, Polkas and Tangos!
The Sensuous Sonorities of Debussy
The Romance of the Piano
Front Title
Rhapsody!
Agony and Ecstasy:
Passionate Piano Music of
Clara and Robert Schumann
Popular Piano Classics
Back Title
Splendor From Silence: Beethoven's Sonata in
A-Flat, Op. 110
Schubert in the Age of the Sound Bite
Special Family Concert: Music for the
Young and the Young at Heart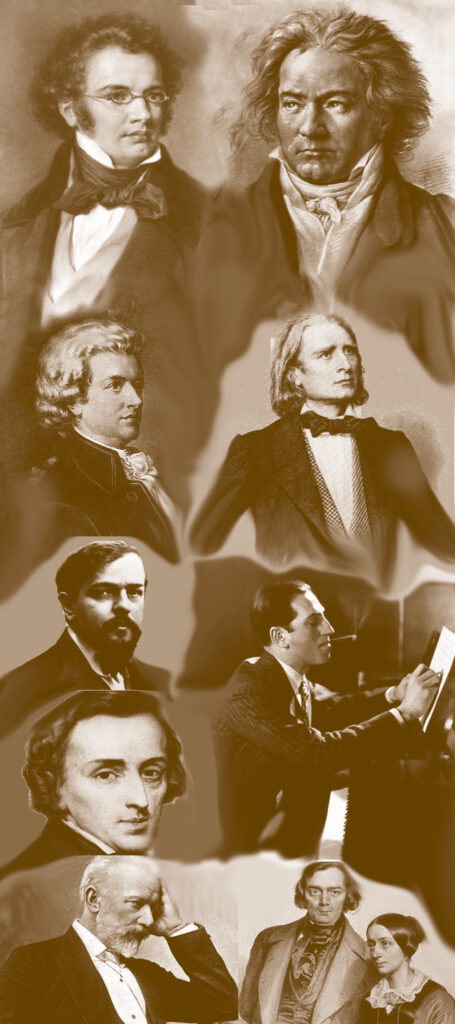 GERSHWIN AND FRIENDS
Rhapsody in Blue, in a rarely heard solo piano transcription by the composer; rousing excerpts from Leonard Bernstein's West Side Story and his intimate and poetic Anniversaries; Aaron Copland's humorous Cat and the Mouse; Scott Joplin's Wall Street Rag – and more!
A CHOPIN SHOWCASE
Enthralling, fiery, and poetic works of this beloved, great composer.
The heroic Polonaise in A-Flat; charming Waltzes; dreamy Nocturnes; virtuoso Etudes; and the tempestuous Scherzo No. 2.

THE POWER AND PASSION OF BEETHOVEN:
APPASSIONATA AND MOONLIGHT SONATAS
Two of Beethoven's most beloved sonatas – find out why the Appassionata has been called the "violent eruption of an afflicted soul" and why the "dear old Moonlight" is a shocking, revolutionary composition.

LISTEN TO THE DANCE:
WALTZES, MARCHES, POLKAS, AND TANGOS!
Dances for the ears! Program includes Weber's Invitation to the Dance, Chopin Waltzes, Mendelssohn's Wedding March (in a stupendous, unpublished Franz Liszt-Vladimir Horowitz transcription), Beethoven's Funeral March, Polkas by Stravinsky and Smetana, and Tangos by Albéniz and Astor Piazzola (no dancing in the aisles)!

ROMANCE OF THE PIANO
Music "from the heart to the heart" by Chopin, Grieg, and Liszt.
MISTRESSES AND MASTERPIECES
Music of infinite passion, poetry, and longing by Brahms, Schumann, Liszt, and Chopin, inspired by "significant others" in their lives.

SPELLBINDING BACH
High-voltage, romantic compositions Bach wrote to dazzle his listeners with his stunning virtuosity and deeply expressive music. Program includes Chromatic Fantasy and Fugue, the ever-popular Italian Concerto, exhilarating Toccata in D, soul-stirring Preludes, and Busoni's famous transcription of the Chaconne in D, considered one of Bach's supreme masterpieces.
RUSSIAN RAPTURE: TCHAIKOWSKY AND RACHMANINOFF
Soaring melodies and sumptuous sonorities of these perennially popular composers – colorful Preludes, exhilarating Etudes, excerpts from The Seasons, and scintillating Humoresques.
MIRACLE OF MOZART
Features Mozart's imaginative Variations on Twinkle, twinkle, little Star, the D Minor Fantasy, the popular Turkish Rondo, and the powerful, deeply personal
A Minor Sonata, written shortly after the death of his mother.
MUSIC FOR THE YOUNG AND YOUNG AT HEART
For ages 6 to 106! Some of the most familiar, ear-catching works in the piano repertoire, including Flight of the Bumblebee, Bartók's Diary of a Fly, Copland's Cat and the Mouse, and Gershwin's Walking the Dog, as well as I Got Rhythm.